Car wrapping has become the latest trend being followed by this age and who
doesn't want his\her car to look beautiful and shiny. Car owners know about the
mini heart attacks they got when their car got scratched or abrade by other
vehicles and if your car is old and full of rust and dings, it will only cause more
harm to the car. The rusting part will continue to rot if they are not rightly tended
to. Painting the whole car to change its appearance costs expensive especially if it's
an old car, so that's where car wrapping comes to save the day. Car wrapping can
do wonders. It changes the appearance of the vehicle completely, gives your car a
new life. the idea of a vehicle wrap is itself a very creative idea that makes your
vehicle brand new. Car Wrap Conroe
So what exactly is Car wrapping?
Wrapping is a simple way to change the look of your vehicle. Vinyl is used and
applied carefully over the bodywork of the vehicle.
We have often heard about the famous line 'first impression is the last impression'.
Whether you're a small business or big, we all want to leave a good impression on
clients. Now think about all those entry scenes in the movies where the hero makes
the grand entry coming out from their car. Now imagine will it leave the same
effector impression if the car that was being used is rusted and have a lot of
scratches or dented. No, right? In the same way, when you're doing a business the
outer appearance matters a lot, be it the clothes that you wear or the vehicle you
use. In this era of technology and thanks to this pandemic, many things have
changed especially the process of how we work and run the business. When it
comes to advertising your business, car/ vehicle wapping is one of the fittest and
perfect methods especially when the old traditional advertising methods aren't
working like they used to. Car Wrap Conroe
Whether it is a small firm or a big firm, opting for vehicle wrapping marketing
delivers good results without a big investment. it's an easy way to enhance the
exposure of your brand.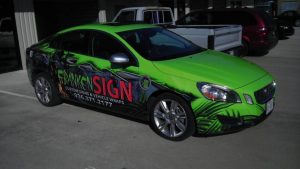 Let's take a look at why car wrapping makes your business look more professional:
● Car wrapping is a sign of long-time investment- using car wrap makes it seems like that your firm has a fleet of vehicles. You don't have to tell anyone when your car wrap was installed, so when you drive around, you let your wrap grab the attention of potential customers. A well-designed car wrap looks very professional and shows adherence to your brand that boosts confidence in potential customers.
● Car wrapping also implies that you take pride in your established business. When you show your love and pride towards your firm, only then you'll be able to gain the trust of your clients. They need a reason
to believe in your business and your professionalism and car wrapping advertisement gave that reason to them.
● Car wrap makes your business looks bigger and widely known. This is the biggest benefit of car wrapping. Car wrapping looks so professional that it makes people think that it must be a big firm. Another biggest benefit is that their reach is not limited to a specific place or people.
You can hop around the city anywhere freely. The more you are seen in different places the more it boosts the professionalism of your budding business.
So if you are looking for a cool& custom way to design your vehicle wrap in Conroe to make your business looks more professional then Precision Printing is the one for you. We'll provide you the best design and production techniques. Our car wrapping service Conroe can cohere the corrugated irregular surfaces efficiently. Car Wrap Conroe